Without Mercy
by Belinda Boring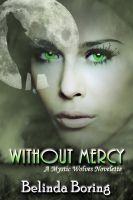 Published by: Moonstruck Media Publish Date: July 7, 2011 Book Length: Short Novella Genre: Urban Fantasy Series: Mystic Wolves 1
My Review:
Blurb From Amazon:
What would you do if a simple errand takes a deadly twist, turning you from cautious prey to dangerous predator? When Darcy's outing takes a turn for the worst and tests her to the point of breaking, she struggles to maintain her humanity. Where loyalty and pack mean everything, she surrenders to the inevitable and only an act of complete trust can touch her. When all is said and done, with memories flooding her mind, Darcy holds tightly to the only thing that makes sense – it was all a dream. Or was it?
My Review
This is going to be a quickie review to fit a quickie story.  Without Mercy is a very short novella, a quick story, but an excellent one.  So many times in novellas, the stories can be complex, which is very difficult to pull off in a short story.  In Without Mercy, Belinda Boring does an excellent job of keeping the story on-track, and not making the plot overly complicated.  This story is a teaser, and a wonderful introduction to a new series and new characters.
In this novella, emotions run high as two female werewolves are cornered and betrayed by a man they thought was a friend.  As the danger escalates, Darcy and her future sister-in-law struggle to keep their inner-wolves at bay.  I felt for Darcy and her struggle to try to maintain the balance between her humanity and her inner wolf.  I also liked Marcus, the alpha wolf, and how he handled the aftermath of the dangerous encounter the girls faced.  I loved the characters, I loved the plot, I loved this novella.  I am now very much looking forward to reading more about these characters.
Without Mercy is the perfect prelude to a promising new series.  Kudos to Ms. Boring for such an excellent debut!
You can purchase Without Mercy for only 99 cents at: